Posted on
By Re:new Project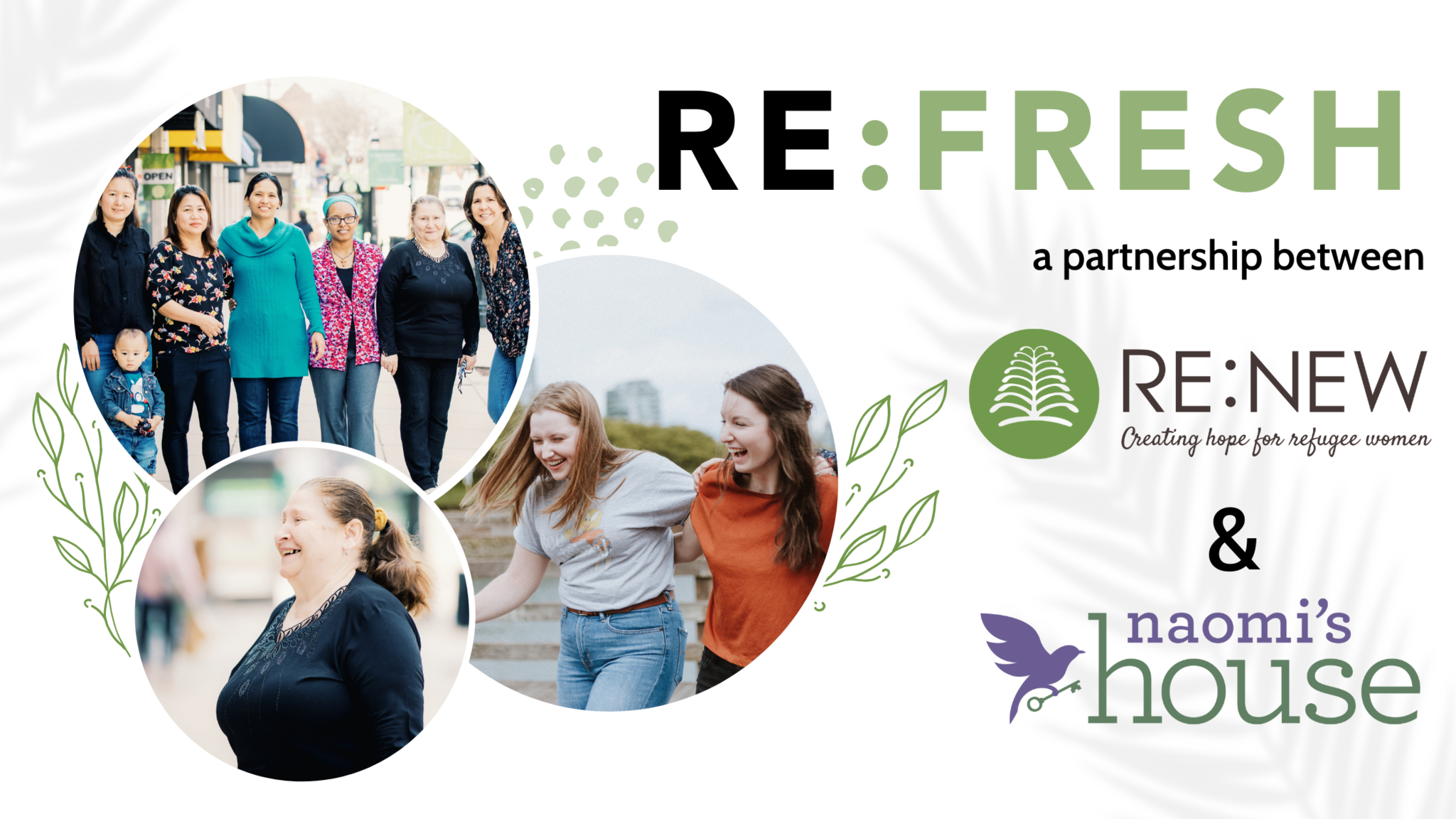 Introducing Re:fresh! Re:new is expanding our reach, partnering with Naomi's House (NH) of Chicago to serve even more survivors in our community. READ MORE!
Big news! Re:new is expanding our reach, partnering with Naomi's House (NH) of Chicago to serve even more survivors in our community. We're calling this initiative Re:fresh—because it's all new and represents an exciting shift in our model!
As a residential program for survivors of commercial sexual exploitation, NH exists because it believes every woman who has suffered these circumstances deserves a new start, and we couldn't agree more! Through Re:fresh, we'll help NH residents find exactly that—a new, fresh start—not only through jobs, but through safe employment in a dignified workplace among a community of friends. And we couldn't be more thrilled about it!
"Naomi's House is grateful for this partnership with Re:new Project! It is an answer to prayer on many levels – we've been praying for a sustainable workplace for Survivors that is saturated in a Christ-centered culture AND teaches a skill that builds dignity," says Simone Halpin, Executive Director of Naomi's House. "These pieces help build hope into the lives of women who have been struggling to believe that there is life after sexual exploitation. Thank you Re:new for joining hands with NH and making a way for Survivors to thrive!"
Every quarter, as more women enter NH's program, our team will go to them, offering free sewing classes in their space. This, we expect, will extend our teaching, employment, and mentorship services to at least 80 women in the coming year, almost double the amount we have in the past.
And yes! In case you were wondering, this new aspect of our work will involve refugees! That's maybe the best part: Re:new will continue caring for refugee women in the same way we have for the last 12 years, but now, we'll be able to reach even more as many of NH's residents are also refugees in desperate need of a community to call home.
"I am filled with expectation for how God will work through this partnership! We are so grateful to offer a safe space for women to gather together, heal, and have a fresh start." -Kristi Zboncak, Executive Director of Re:new
As always, our heart at Re:new is to show and share God's love in tangible ways, and we believe that this initiative is an amazing opportunity to do so. We so look forward to watching many lives be changed.
If you would like to be a part of reaching more survivors through Re:fresh, consider giving to Re:new today.