Posted on
By Re:new Project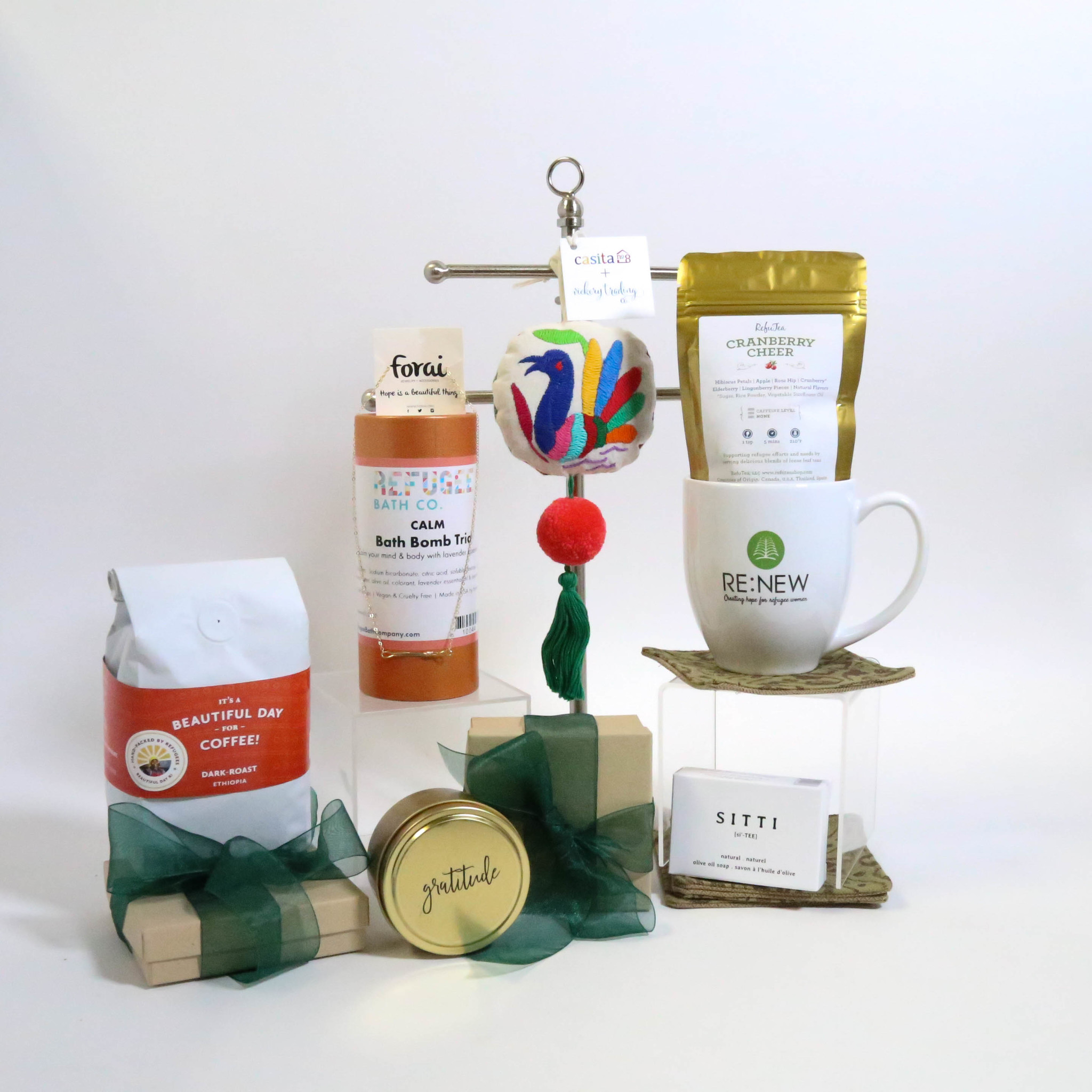 This holiday season, we've partnered with seven organizations across North American that support refugees through job skill training and employment. Sold in our store and online, we can't wait for you to get to know the cutest products and the wonderful companies that create them!

Vickery Trading, Dallas, TX (Ornament)
www.vickerytrading.org 
Equipping refugee women for long term success through vocational training, personal development, and fair wages.

Beautiful Day, Providence, RI (Coffee)
www.beautifuldayri.org
Beautiful Day helps refugees adjust to life in America by offering paid, on the job training.

Forai, St.Lous, MO (Gold Necklaces)
www.forai.org
Forai stands with refugee women to provide income, community, empowerment, and dignity.

RefuTea, Grand Rapids, MI (Loose Leaf Tea)
www.refuteashop.com
A tea company with a social purpose.  RefuTea aims to bridge the gap between resettlement and assimilation by employing refugees to package and serve tea.

Refugee Bath Company, Spokane, WA (Bath Bombs)
www.refugeebathcompany.com
The Refugee Bath Co was created to provide opportunity for refugees in our community to earn a living creating the highest quality bath products.  We believe that refugees are a benefit to the American economy.

Prosperity Candles, East Hampton, MA (Coconut Soy Candles)
www.prosperitycandle.com
We began by training war widows in Iraq in candle-making and entrepreneurship, and since have impacted the lives of hundreds of Burmese, Bhutanese, Congolese, Haitian, and Iraqi women and refugees.  As a company that supports refugees, today most of our candles are handmade in the U.S. by women artisans who lived for many years as refugees, and are now earning a living wage as candlemakers.

Sitti Soap, Ontario, Canada (Olive Oil Soap)
www.sittisoap.com
Sitti is a conscious lifestyle brand committed to the self-reliance of refugee and displaced communities through long-term employment opportunities and skill development training, empowered by a global market of conscious consumers.