Posted on
By Renew Project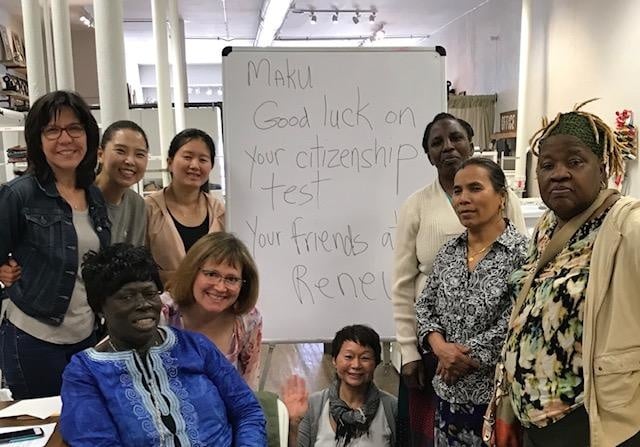 The first time I taught an ESL class to the women of Renew was in Spring 2017. I'd approached the executive director at the time about my volunteering as a sales associates/ESL teacher and she welcomed the idea.
At the first ESL class at Renew, I provided some adjectives to describe feelings one might have on a rainy day.  When I asked each woman to describe how a rainy day made her feel, I was delighted by the answer one of the women gave:  "Happy!  Because all growing things need rain."  That answer was representative of the positive resiliency of the Renew women who had journeyed through much hardship on their way to our community, looking at renewal and hope as their path to a secure future for themselves and their families.
I am Amerasian, born to a Japanese woman and an American soldier.  I'd witnessed the loneliness my mother suffered due to her strong accent and shyness about speaking English and it made me aware of the need to help others for whom English is a second language.   My first volunteer endeavor was tutoring a Laotian refugee boy in the early 1970s.  His goal was to learn enough English to become a mechanic; I look for Nga whenever a I pass an auto repair shop.  
Defining and reaching goals is a topic I often introduce for our Renew ESL classes.  Even for the new sewers attending English classes for the first time, I've been privileged to witness the growth of these determined refugee women as they expand their knowledge of English, learn to navigate their community and work toward their goals - a first job, obtaining a driver's license, passing the citizenship test, continuing their education...  The women of Renew encourage, support, comfort and celebrate one another.  It is rewarding to see the women gain confidence in their communication skills and expand their relationships as they progress with their English skills.
Some of the highlights - Melanie leading the class through reading a recipe and making cookies, field trips on the train to visit Chicago, enjoying new tastes and recipes during the shared meals around the Renew table, learning of other cultures as each women described a typical daily routine from their time in their birth countries, laughing together at American idioms and learning of similar phrases from their culture, hearing about their favorite movie or book...teaching English at Renew is the most rewarding endeavor I've experienced in my lifetime of spreading English literacy.
The above picture (I'm in the middle) is of the women sending an encouragement to Maku upon her taking her citizenship test last year - she passed!
-Jane, ESL Teacher